Post by FOA Team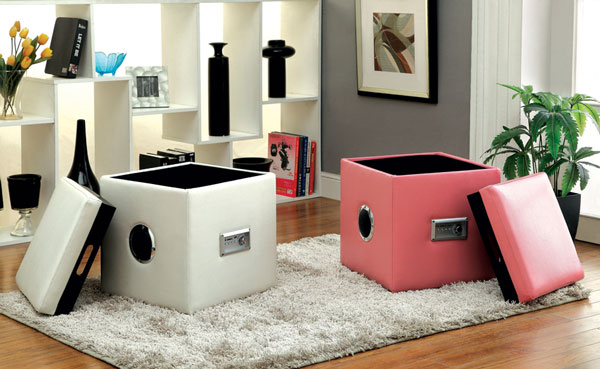 When choosing pieces to decorate your dorm space, size and function play a large part. It's important to look for items that double your space, save you time and, most importantly, offer functionality! If you're creative (and trust us, you need to be to make those small spaces work), these pieces won't be hard to find. Dorm decorating can be easy and fun, plus it's your chance to prove your independence, so let's get started!
Ottomans
Ottomans come in many different shapes, sizes, colors and fabrics, so finding one that fits your style shouldn't be hard. Opt for a multipurpose design. Storage, seating, Bluetooth capability or even a tabletop function are all options to consider. Smaller pieces can easily be tucked away while larger ottomans may take up too much space, and we still have other needs to consider. So let's move it along…
The 2-in-1
The ideal dorm decor will cater to more than one need. Pieces with hidden features are a neat way to make life easier all while adding flair to your new home. Anything and everything can be used to your advantage! A trash can with a padded seat top, a cork board with coat hooks, or even a hidden caster wheel trundle design can add plenty of additional drawer space and none of the unnecessary bulk. Choose your pieces wisely. After all, this is your home, study area and hangout for at least a few months!
Dorm Room Tips and Tricks
With the furnishings out of the way, don't sweat the small stuff. We've got some gems of advice that should help make your new home both decorative and functional!
1 – Use a shower caddy as storage. These inexpensive organizers can actually provide tons of space to hold small toiletries, and some can pull double duty with their portable designs!
2 – Display a dry-erase board or calendar to keep track of your schedule. Keep it out in the open so that you can glance over any time to stay ahead of the game! (Disclaimer: This may not prevent you from procrastinating!)
3 – Invest in space-saving hangers. We know dorm room closet space can be extremely limited (and you don't want to be caught in the same outfit twice). Space-saving hangers that can hold up multiple clothes will prove to be invaluable! Try cascading hangers with some links if purchasing tiered hangers aren't an option.
4 – Hang shelves and drawers for extra storage. It's all about vertical space. Use hanging shelves and drawers as a way to add on closet space for clothes and small accessories. A versatile investment that will make the most of your limited floor space.
5 – Keep textbooks on a separate shelving piece. A multi-tiered end table with multiple shelves can help prevent your desk from getting cluttered. If your desk comes with drawers, see if your books will fit; if not, this might be handy purchase that will save you valuable tabletop space. Don't plan to keep the textbook after you're done with the class? Turn the shelving piece into your personal storage table for extra gadgets or accessories.
6 – Discuss with your roommate(s) beforehand. Some items don't need to be duplicated and it's good to get an idea of how much space you'll have for your belongings. (It'll also be a great way to see if this person likes sharing or not!)
Moving into a new home, however temporary, doesn't have to be stressful. This is the perfect time to learn about yourself and try new things, whether it be new experiences or adventurous space-saving and time-management techniques. Keep it fun and, above all else, make it YOURS.