Post by FOA Team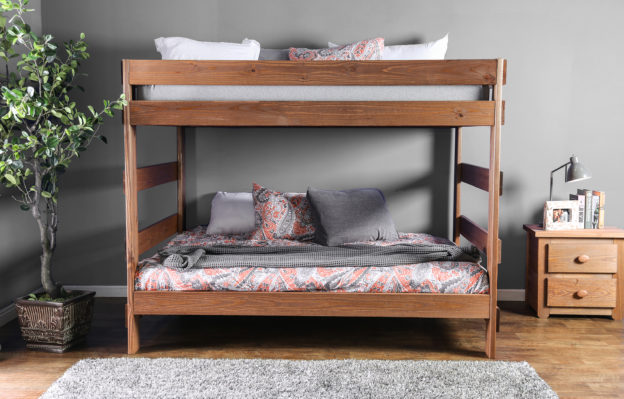 It's with genuine concern that companies like our own invest much time and money into developing bunk beds with an emphasis on safety and practicality.
By stacking one bed frame on top of another, a family is able to cut the necessary bedroom floor space in half. Typically a bunk bed is supported by four pillars, one at each corner. A ladder is often built-in or able to be locked in place to allow easy, secure climbing. At top, a railing surrounds the bed – an important protective measure taken to prevent children from accidentally rolling off. With such concerns in mind, bunk beds are recommended for children over seven years old.
There are so many options and styles to choose from, it's best to do a little research. You'll likely find a model that seems as though it was custom-made for your needs. Who knows? You may find the right fit in a standard bunk bed, which typically features two identical twin-size mattresses, such as the Catalina style.
You may even choose a twin-over-full bed that allows greater space on the lower bunk. It's the perfect setup for two small children and one growing one. When more space is needed, a full-over-full will do the trick. Known as a 'wider bed', you could potentially accommodate four snoozing guests with its two large mattresses.
One special bunk bed in particular is as pleasing to the eye as it is convenient. It's art of descending symmetry. It fits three children without issue, ideally in various stages of growth. The oldest biggest kid gets the bottom Queen-size mattress, the middle child gets the middle full-size, and the smallest of the trio gets the twin on top. A version of this is the Olga III – a successful attempt at making the most efficient and elegant use of this configuration.
There are many innovative variations of the bunk concept. For instance, often in lieu of a ladder certain concepts feature steps built-in. Maybe they're incorporated into a twin-over-full with a pull-out trundle hidden underneath that can easily accommodate another small person.
Often, problems arise when a room has limited space. In such a scenario it is perhaps fortunate that older children prefer the loft bed that features a work desk area beneath the mattress. It serves well as a homework destination that helps limit distractions.
Meanwhile, a futon bunk follows suit. But instead of a desk or bed on bottom, there lies a western-style couch. It folds out, easily transforming into a mattress. This makes switching between entertaining guests and bedtime a breeze. Take a gander at the Opal set for the ideal example of this style.
You may be surprised by just how many bunk beds there are. Almost certainly, there is an option that will suit nearly every specific need perfectly. We all could use a bit of reassurance when it comes to our kid's safety and the right bunk beds may provide just a little peace of mind.