Post by FOA Team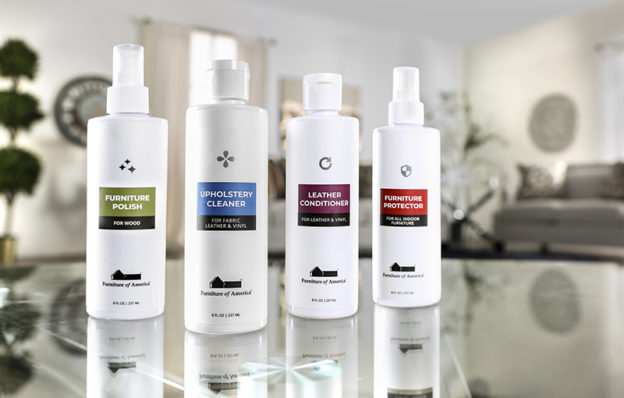 Furniture of America's commitment to sustainability led to the creation of our first ever line of furniture care products—the CLEAN LIVING FURNITURE CARE KIT. When used properly, this four-in-one kit can help preserve your furniture so you can keep them longer. The solutions come in four bottles (8 oz. each): Upholstery Cleaner, Leather Conditioner, Furniture Polish, and Furniture Protector – all made in the USA.
Four ways to get the most out of your furniture
CLEAN IT. The Upholstery Cleaner is specially formulated to effectively clean tough stains on fabric, leather, and vinyl. This non-toxic cleaner helps prolong the life of your furniture. As for these types of products, always test in an inconspicuous area for any discoloration before use.
POLISH IT. For wooden surfaces and laminates, our Furniture Polish improves appearance by removing dust and fingerprints while providing a powerful shine. And although scratches are physical damage to the surface, and it is not quite possible to completely remove them, the polish can make them appear less deep. In some cases it may seem like there is no scratch at all!
CONDITION IT. Our Leather Conditioner is designed to aid in revitalizing leather and vinyl furniture to its restored condition. This non-toxic, biodegradable product will help lessen the appearance of minor scratches and abrasions. It's formulated with lanolin to moisturize and soften all types of leather (except suede).
PROTECT IT. After cleaning, polishing, or conditioning your furniture, make sure you protect its shine with our Furniture Protector. This non-aerosol, water-based spray-on product adds a breathable layer that helps repel dirt, liquids, and stains from all types of products. It keeps them on the surface where they can easily be wiped away.
Environmentally friendly from production to use
We're proud to say that our CLEAN LIVING FURNITURE CARE KIT is created from the most environmentally-aware process possible. Formulated and produced in a solar-powered facility with highly-efficient, quality water systems, each bottle carries the mark of strict ISO standards—no harm emissions to the atmosphere or drainage to the ocean. Robust containment systems are in place in our plants to prevent leakage in case of an emergency. Finally, the packaging can be fully recycled.
In every step of the way, we ensure that we do right by the environment, because we understand what is expected of us—and we are proud to meet those expectations.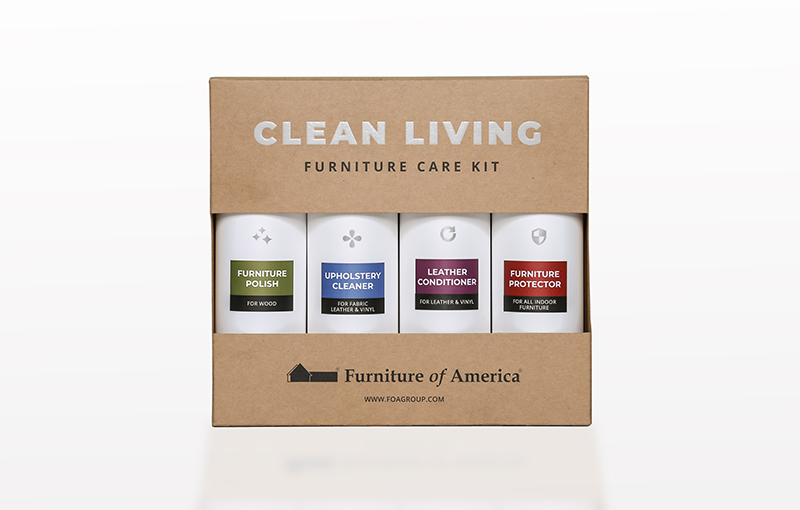 Each product in the CLEAN LIVING FURNITURE CARE KIT is water-based, non-aerosol, and non-toxic. They are eco-friendly, not just for the run-off but also for consumers using them at home. Use them to help extend the life of your fabric chair, leather sofa, or wooden bed. Keep your furniture longer, so in your own way you can help save the environment, too.
Learn more by visiting the CLEAN LIVING page on our website and watch our how-to-use video below.