Post by FOA Team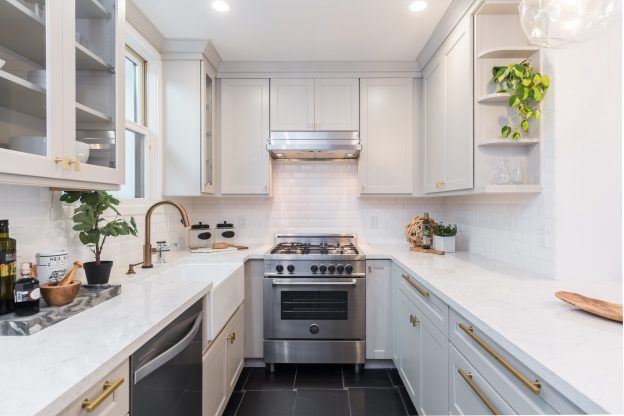 This article first appeared in the Redfin Blog.
Looking for DIY home improvement projects to spruce up your space? Well, you're in luck. We tapped some of the top DIY home improvement experts across North America, from Toronto, ON to Atlanta, GA, and asked them to share some of their favorite projects and renovations. From quick fixes such as adding greenery or switching up the lighting, to slightly bigger tasks, such as painting a dresser or creating a statement wall, there are plenty of easy ways to refresh your home.
So whether you're trying to sell your house or simply want to upgrade your space, these easy home improvement ideas can help you get started!
1. Paint wood cabinets with chalk paint. The most budget-friendly way to update a kitchen or bathroom and refresh your home is to paint the cabinets with chalk paint. It is super easy to do and makes a huge impact on a high traffic space for very little money. – Bricks 'n Blooms
2. Change the light fixtures. Switching out the lights can make a big impact without breaking the bank and devoting a lot of time. There's a multitude of beautiful, inexpensive lighting options out there to choose from. And swapping out a fixture takes only a couple of hours, max. – Two Twenty One
3. Refresh your pantry with shallow shelving. For an easy pantry makeover, use shallow shelving installed from the floor to the ceiling (so long as it's not beyond reach) instead of the standard 12-18" deep shelves in a pantry. This will prevent pantry items from being hidden and forgotten behind other items. Make the shelves adjustable for even more customization and organization. – Reinvented Delaware
4. Add character to a room with built-in bookshelves. Our favorite home improvement project to refresh a space or room is a DIY built-in bookcase filled with colorful books & accessories. The double-sided built-in bookshelf with a hidden bookcase door we built transformed our space. – Hello Small World
5. Spice up a room with a luxurious stenciled wall design. Modern stencils are easier to use than ever and can produce a finish that rivals even the most expensive wallpapers. For a more subtle update, try the same paint in two different sheens to give a sophisticated layered look. – The Copper Elm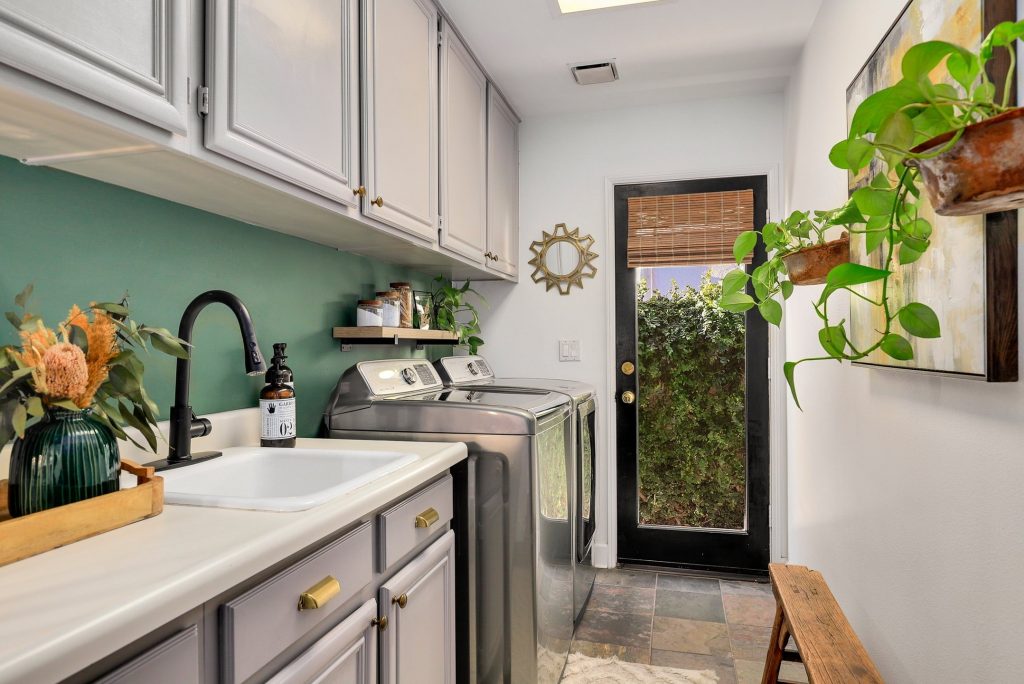 6. Beautify your laundry room. I use my laundry room every day, and while it may not be a show stopper like kitchen or bathroom changes can be, I am happy when I look in here and it makes it less frustrating to laundry all the time. Making the space cheerful and having it work for me at the same time was the real win. – Jessica Rayome
7. Work with what you have to refresh your home. Outdated cabinets? Give them a fresh coat of paint and add new hardware for an updated look. Ugly linoleum or tile floors? Use paint to create a stencil pattern and add more years of life. Stained Formica countertops? Purchase an epoxy countertop kit and give them a marble or granite look for a fraction of the cost of replacing. – This Full Life 5
8. Update a room with your favorite art pieces. For each room in your new home, pick one favorite framed piece of art and hang complimentary pieces according to how you want that room to feel. Experiment with asymmetrical hanging designs to create a more dynamic and interesting look and feel to your space. Also, consider restoring treasured works of art and updating framing for preservation. – Trefler's
9. Transform a room with simple wall molding and paint. You can elevate your space by installing a unique wall treatment, like board and batten, shiplap, or wainscotting. Then, pull it all together with a fresh coat of paint to modernize it with a color that fits the color palette for your home. – Sarah Symonds, Grace In My Space
10. Paint a piece of furniture. Painting furniture is a quick, easy, and inexpensive way to change up the look of your space and refresh your home. – Three Coats of Charm
11. Update your laminate cabinets to refresh your home. Creating a home you love doesn't have to cost a fortune. With a can of spray paint and some shelf brackets, this homeowner turned a builder-grade laminate cabinet into a beautiful coastal farmhouse-style cabinet. – K's Olympic Nest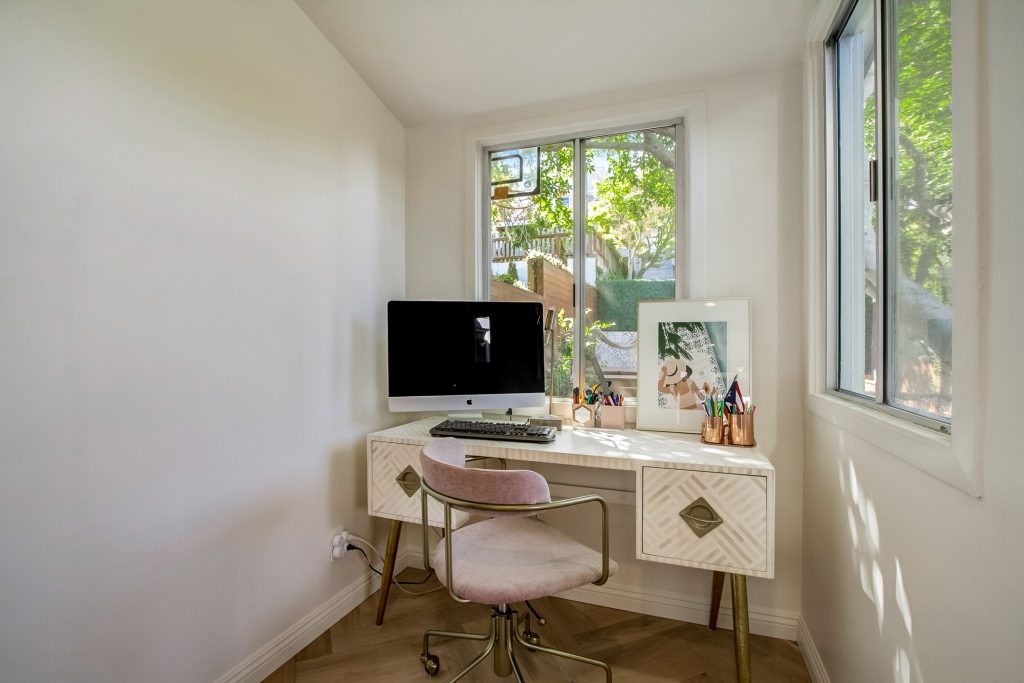 12. Personalize your home office. With the shift to working from home, my tip is to personalize the home office in a fun, easy, and affordable way. For example, you can update an old filing cabinet to suit your style by painting it and adding a set of cool legs. – BB Frösch
13. Add a touch of greenery to transform any room. Tall, willowy trees fit empty corners perfectly, while potted plants in between pieces bring softness to the hard angles of a room. To warm up the cold feel of glass and metal, use a small topiary or bonsai plant to add organic lines to an often rigid, contemporary style. It's time to bring your room to life, one sprig of rich greenery at a time. – Furniture of America
14. Create stylish organization through built-in storage. Building a closet organization system with drawers and shelving will make the closet look clutter-free and well organized. Adding window seats with storage, either drawers or cubbies with stylish storage bins can help remove clutter in bedrooms, dining rooms, or living rooms. In addition, there are many tutorials available online for how to create DIY built-in storage systems to fit your needs. – Pinspired to DIY
15. Refresh hallway doors on a budget. Many older homes have core hollow doors which can be expensive to replace. Instead of purchasing all new doors, you can use picture frame molding, a miter box (or miter saw), and liquid nails to create the look of a paneled door. Add a fresh coat of paint and you have "new" doors for under $20. – Grace and Maura
16. Think outside the box when it comes to painting. When you're looking to refresh your home, don't just paint a wall one color – instead color block or stencil it. Also, don't just paint walls – instead paint fixtures, counters, or even your fireplace with spray paint or regular paint. There are so many wonderful paint products out there that will help you level up your room's vibe and style in a cost-effective way. – My Homier Home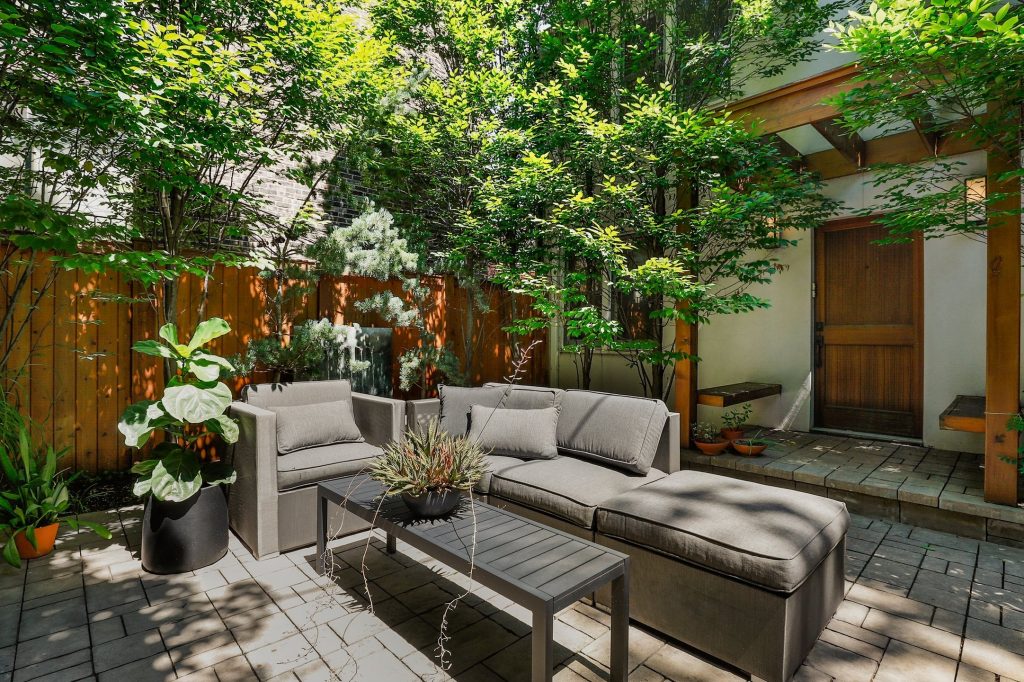 17. Rethink your outdoor space. Outdoor space is often an untapped resource in a home. With pea gravel as a base, we transformed a weedy, muddy spot next to our back patio into an awesome hangout. If your home is feeling tight, think beyond its walls and look to the great outdoors. – Modern Chemistry at Home
18. Create a statement wall. A statement wall can instantly update or change the entire vibe of a room, and a bonus is that It's an easy, inexpensive DIY that you can complete in a weekend using paint, wallpaper, wood, or even leftover shims. – A Life Unfolding
19. Make affordable, but impactful updates in your kitchen. I recently redid our kitchen for under $1000 and it made the space feel brand new. The cabinets were brown, laminate countertops, white appliances, and an electric range with an old sink. We switched out the sink and the range to electric, painted the cabinets, and then did a DIY faux marble finish on the countertops. It completely changed the space to make it look brand new on a budget. – A Yellow Peach
20. Change out your wall decor to refresh your home. Fiber-based art is great for softening a space and metal pieces can lend to an industrial feel. Even if you are simply shifting your favorite pieces into different rooms, switching up your decor can make a space feel new. – Danielle Kaminski
21. Switch out builder-grade wire shelving in a linen closet. Nobody likes the look of the wire shelving that comes standard in most houses.  So, we built wooden covers to fit over the existing shelves that look like real wood floating shelves. This doesn't add much weight to the shelves, makes them look better and more functional with the flat surface, and was inexpensive because we used plywood. – Newbuild Newlyweds