Post by FOA Team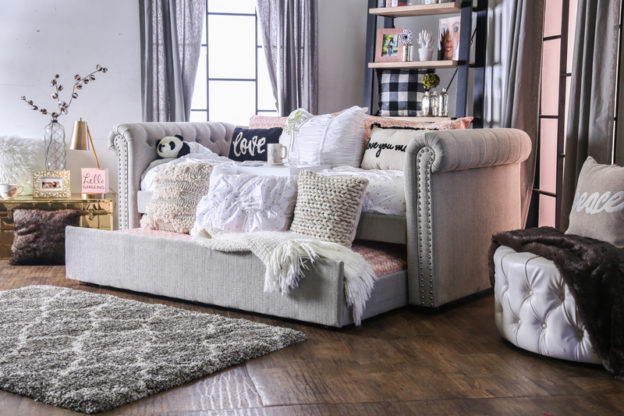 Spring is still a ways off, but it's never a bad idea to get a head start on your spring cleaning efforts. How about a quick and easy makeover for your guest room? This transformation features the Furniture of America Leanna Daybed. The sophisticated Chesterfield style rolled arms, button tufts and nailhead trim are all subtle traits that add a pop of oomph while the roll-out trundle is perfect for overnight guests and sleepovers, making this a versatile piece for any home. Let's get started!
The Shopping List
(2) Sets of basic twin size sheets
(2) Blankets or lightweight down comforters
(1) Full/Queen decorative comforter with matching pillow shams
(1) Set of king size sheets in a coordinating pattern that works with comforter
(2) Standard bed pillows
(2) King size bed pillows
(4) Bright accent pillows
(1) Soft, furry throw
(Optional) Several small accessories to use around the room
The bed is the focal point of the room so finding the right bedding is essential to your new look. Look for a Full/Queen comforter in an interesting pattern and a set of king size sheets in a different pattern to complement it. Those two elements will give you style and color that you can build on throughout the room; they make it pop! Find four trendy accent pillows; we used ones with typography, nubby textures, patterns and fur. When you've found a comforter, pick one or two colors from it and buy several small accessories in those colors. Using those in bookcases or nightstands will add to the overall look of your room.
Let's Get Started
Step 1
Make the beds using the twin fitted and flat sheets; add a down comforter or blanket to each mattress. These basic necessities are what will be underneath the amazing look that your guests will sleep with. 
Step 2
Put the decorative comforter on the top bed. The sheets and sleeping comforter underneath will add softness and depth so that the bed looks plump and comfy. The comforter can be tucked in all the way around for a soft but uniform fit, or you can let the layers hang over the sides for that messy, lived-in look. Top the already made-up trundle with a coordinating sheet to tie into your look together.
Step 3
For the final touch, arrange the king size pillows in coordinating pillow cases so that they are centered along the back of the daybed. Place two standard pillows in coordinating shams from the comforter set in front. and a couple of bed pillows with white pillowcases to make the bed look fuller. Add accent pillows; arrange or layer all of the pillows until they look full and are balanced around the bed.
Just Between Us
Mix and match! The more you play with coordinating patterns and colors in bedding and pillows, the more interesting the look. Accent pillows come in all types of textures, colors and sizes (ex. fur pillows, pillows with quotes, tasseled pillows). Find one that fits your style but don't be afraid to mix it up!
Life is too short to skimp on comfort! Spending less is only good if you are not sacrificing quality. By spending a little more, you avoid inferior bedding that doesn't look good or last. Find quality bedding at great prices by shopping at your local Marshall's, TJ Maxx, Home Goods, Ross, etc. You'll be surprised at what you can put together without breaking the bank!
Keep the look for a while! To keep bedding perfect without losing color and texture through endless washing, don't sleep with the decorative bedding. Toss aside the decorative pillows, roll down the comforter, and sleep with the first layer of sheets and comforter. It only takes a minute to put it back together in the morning! It's. Like. Magic.




Share your designs with us on Twitter, Facebook & Instagram with #foamakeover and tag us @foagroup!